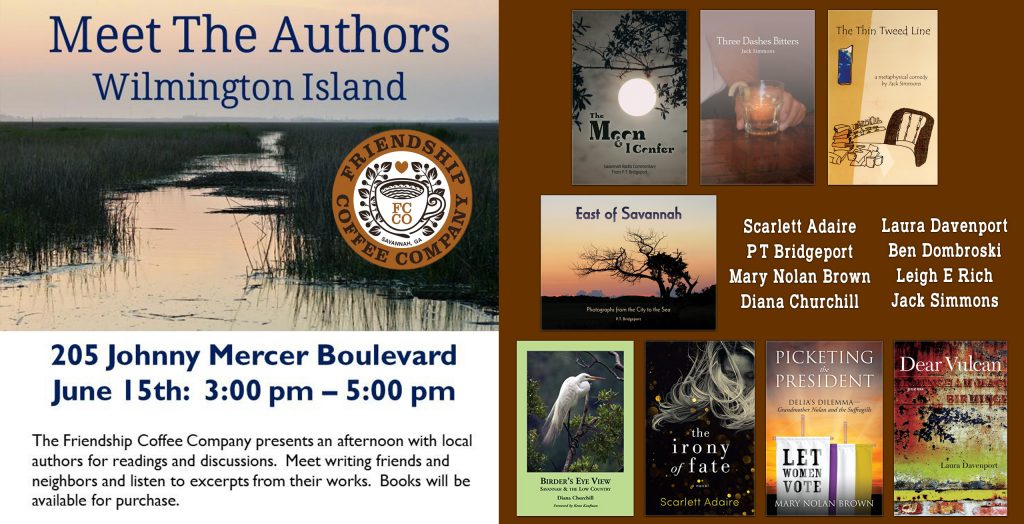 WHAT Meet and Greet with Island Authors
WHO Sponsored by the Friendship Coffee Company
WHEN Wednesday, June 15, 2022, from 3 p.m. until 5 p.m.
WHERE 205 Johnny Mercer Blvd., Savannah, GA 31410
COST Free and open to the public
The Friendship Coffee Company hosts an afternoon with local authors for readings and discussion. Meet writing friends and neighbors, and listen to excerpts from their works.
Authors scheduled to attend include:
Scarlett Adaire, The Irony of Fate
P. T. Bridgeport, East of Savannah and The Moon and I Confer
Mary Nolan Brown, Picketing the President
Diana Churchill, Birder's Eye View
Laura Davenport, Dear Vulcan
Ben Dombroski, Murmur
Leigh E. Rich (publisher)
Jack Simmons, Three Dashes Bitters and The Thin Tweed Line
Books will be available for signing and purchase.