---
"Jack Simmons' wild romantic comedy, 'Three Dashes Bitters,' showcases a cast of colorful characters spouting cheeky dialogue amid the alcohol-numbed drift and sustained adolescence of graduate students headed nowhere near a degree. Set against the backdrop of affluent uptowners who belong to the New Orleans Country Club and are forever off to another debutante ball, this kinetic story recalls the bacchanal of 'On the Road,' if staged as a twisting Grand Prix over the Big Easy's potholed streets. Simmons' novel features hard drinking and fuzzy thinking and a destination as dizzy as it is pleasing."

Fredrick Barton, 'In the Wake of the Flagship' and 'The El Cholo Feeling Passes'
---
About the Book
When Tim Schmidt returns to New Orleans to attend his sister's debutante ball, he finds that nothing has changed during his three-year hiatus in Boston.
He is still in love with Jane, a hard-drinking iconoclast, too well bred to join the ranks of the Generation X slackers, yet unable to accept the standards of her high society upbringing. Happily, it seems Jane might still harbor feelings for him.
But over drinks at The Columns Hotel, things get messy, and Tim's grand return to the city of his birth soon unravels—the very sort of thing that inspired Tim to leave NOLA in the first place.
With only twenty-four hours before the ball to figure out what to do (which has never been Tim's forte), this former philosophy student finds unsolicited advice from members of a new leisure class. There is Milton, Tim's college roommate turned Marxist revolutionary, a Falstaffian gent bent on overthrowing the government. Two young Arizona "brothers from another mother." A disillusioned German exchange student who has abandoned the study of physics for the French Quarter social scene. And an Italian fellow who is a self-proclaimed master in the art of amore.
Picking up where Walker Percy (The Moviegoer) and John Kennedy Toole (A Confederacy of Dunces) left off, this wild romp presents New Orleans as an eternal city, whose characters exceed the vicissitudes of fortune, functioning instead as a universal canvas upon which individuals must struggle to carve out their existence. This is not the NOLA of Hurricane Katrina, political corruption, crime, tourism, or the home of jazz. Rather, Simmons adds to the literary œuvre of this Southern city, and Three Dashes Bitters captures a New Orleans defined only in the individuals we encounter—not the easy stereotypes that make individuality impossible.
---
About the Author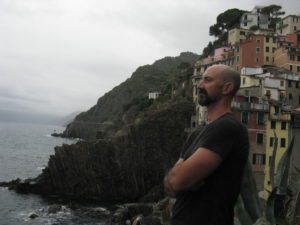 A professor of philosophy, Jack Simmons specializes in metaphysical comedies with romantic twists.
He is the author of Three Dashes Bitters, a novel set in the city of New Orleans; the short story "The Painter's Daughter" (The Southern Tablet, 2014); and the plays A Tropical Affair (performed in 2013) and The Thin Tweed Line (performed in 2022).
He is also the editor of The 21st Century and Its Discontents (Lexington Books, 2020), an academic book on contemporary social norms.
He has published scholarly articles in journals such as Perspectives in Biology and Medicine, Film and Philosophy, the International Journal of Decision Ethics, and Techné: Journal of the Society for Philosophy and Technology.
He was born in California but has spent his adult years in the South. He attended Mandeville High School in Louisiana as well as Louisiana State University and Tulane University.
He lives in Savannah, Georgia, with his wife Katherine and is the proud father of Savannah, Mary, and Augustus.
Although teaching and research keep him busy, he still finds time to sail and enjoy a Sazerac cocktail (or two) in the evenings.
---
Books and Plays by Jack Simmons