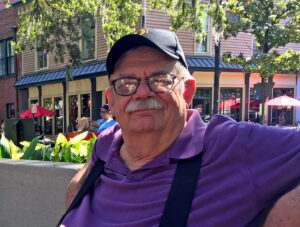 P. T. Bridgeport is a photographer, calligrapher, and uncompensated curmudgeon.
He is a former president of the Savannah Art Association and a former member of the Greater Savannah International Alliance. He has exhibited his photography with the Savannah Art Association and in solo shows.
At WRUU, he cohosts Beyond the Liner Notes at 11 a.m. on Fridays, followed by Listening to Literature during the lunch hour, and has his own show, When the Moon Sings, on Saturday evenings at 5 p.m.
The Moon and I Confer is a collection of his weekly radio "soapboxes" that speak to the human condition and the wondrous inanity of life.
A transplant from farther north, he resides in Savannah with the elegant and accomplished Ms. Hamden Bridgeport and their noble companion Stink.
He was a trombonist early in life but went through a program and now lives spit-valve free.
---
Books by P. T. Bridgeport